State College Girls Basketball: A Memorable Season, That is not Over Yet
After working together many games, State College Girls Basketball is nearing the end of its season with a 7-12 record. Through wins and losses, this team has improved throughout the season. They have created not only a strongly bonded team but also a family. 
A captain and senior, Madison Fry, experiences obstacles in her job to lead this team. She is the only senior competing in the varsity squad and is the sole leader. "As the only senior, sometimes I wish I had someone to relate to. I would like to have others who are also nearing the end of their final season. My senior season has been very stressful because it's my last year playing basketball. Every shot and every mistake is more important than ever. It means more to me than I ever thought it would," Fry said.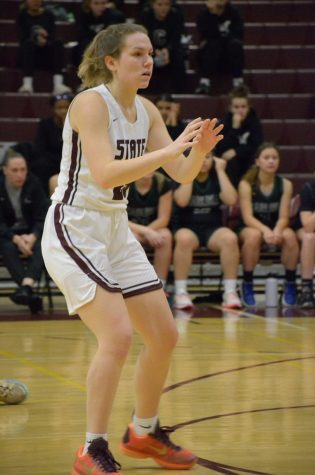 On January 24, the team battled against Cumberland Valley and ended with a tough loss of 53-59. Jordyn Steindl, a sophomore guard finished the game with the most points. In another game against Chambersburg, the girls picked up another win 53-27 on the road. 
Throughout this season, the girls have experienced adversity from wins and losses and competing on the road multiple times. This team has shown dedication, and perseverance as their main goal was to win. 
A sophomore on this team, Annika Bechtel, explained one thing that she has learned from being on this team. "One thing I learned about my team is that we feed off of each other's energy," she said. The electric energy that this team makes during games radiates through the gym when they play. 
Bechtel also mentioned, "My favorite part of being on the team is working hard to succeed with my closest friends." 
Fry shared a similar sentiment. "My favorite part of SCGB is being part of a community. Being a part of a team and a community has been really important to my success in high school. Even after I graduate I will always remember the lessons I learned. And I will never forget the memories I made on this team," she said.  
As this team battles for wins, they have learned their main focus was to believe. Bechtel mentioned, "The main focus of this year's season was to believe, because we have proved things previously, if we put all the pieces together that we need to do to succeed, then we can beat challenging teams that we know we are overall better than."
Another sophomore, Tori Risha, mentioned what she has learned, and what they need to improve on as heading into the postseason. "We want to continue to prove that we are good enough to compete with the 'tough' teams," Risha remarked.  
After a couple more games, this team heads into the postseason. This is the time when winning is the main focus, along with teamwork. If they win, they keep going, but if they lose, they are out. The games ahead are the team's chance to improve bonds while continuing to work harder than ever.