The State High Marching Band Starts the Year off on a High Note
After ending last year's season playing at the football playoffs, the State High Marching Band has started the year off strong, having already played at the Grange Fair and the State High football team's first two home game against St. Augustine and Hollidaysburg. With everything from new uniforms to new shows, the State High Marching Band is sure to blow away everyone who gets the chance to hear them perform.
The marching band is undeniably one of the most lively parts of football games. From the brassy trumpets to the thrumming drumline, their shows get spectators' hearts racing and leaves them feeling thrilled. However, with new uniforms and new shows planned, spectators this year have even more to look forward to.
 "The first show, that we've performed twice now, is our Avengers show," Emma Neely, a senior and drum major, said. "It includes the Captain America March, the Avengers Theme, and the theme from Ant-Man. Our second show, which will debut at the away game at Central Dauphin – East, is our Queen show. It includes the songs Don't Stop Me Now, Crazy Little Thing Called Love-which features most of the band in a dance break-and, lastly, We Are the Champions. We've added a couple new stand tunes, as well, namely Sir Duke, by Stevie Wonder, and Feel It Still by Portugal. The Man."
Marching Band started this year this parading at Grange Fair and playing at two of State High's home football games. "The Grange Fair parade, in my experience, was the best this year than it has been in any of the years I've been in Marching Band," Neely said. "The weather was great, and everyone in the band was excited to perform. The first home game was really one of the most solid first home games I've been a part of. Everyone was ready at that point to march a really good show because we had already been learning and polishing that show for two weeks combined."
Despite having over 200 students, the band has always managed to have a strong sense of family. Through rank parties and Friday nights at Home D, the band has always valued fostering strong relationships between students.  "Any time anyone has a problem, there is always someone willing to hear them and help them work out their problems," Tanner Deyo, marching band sophomore representative, said. "One of the great perks of having nearly 30 people in charge of the band is that there is always someone in charge you can turn to. Because of this, we have very few unresolved problems and everyone stays happy! That's how we maintain a very strong sense of family in a group of our size."
Despite all the fun and games, students learn valuable lessons of hard work and teamwork from the marching band. "There's a quote that I say at the end of each marching band rehearsal that I think rings true for almost anything: 'A band is not proud because it performs well. A band performs well because it is proud. Don't stop until you're proud,'" Neely said. "We also have another saying in Marching Band: 'Eyes with Pride.' This is to remind everyone that the band is bigger than themselves and that it's important that, when we're performing, to always be the best band that we can be, and to be in the experience the entire time. In other words, give it 110%. They both tie in with each other, and I think they each carry an important meaning of something that we're trying to inspire within the band."
About the Contributor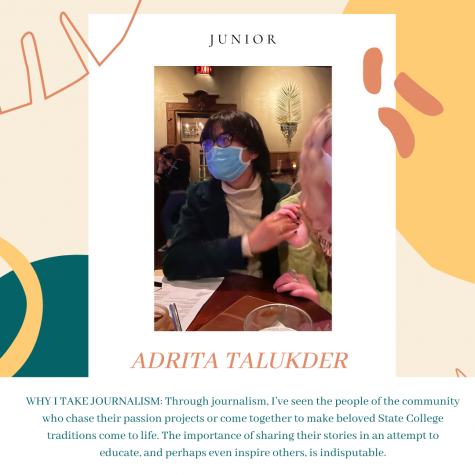 Adrita Talukder, Newspaper Editor in Chief
Adrita Talukder is a junior and the Editor-in-Chief of the Lions' Digest. They're looking forward to creating a newspaper that will showcase all the...