State High Swimming and Diving Season Starts with A Splash
The State High Swimming and Diving Team hosted their first home meet of the year against Chambersburg on December 17, 2019. The natatorium was full of spectators coming to support the family members and classmates who make up the State High Swim Team. The first swim meet of the season was held in Juniata Valley on December 12 against Mifflin County. State High currently has a record of 3-0 and plans on continuing their winning streak well into the rest of the season. While the meet was full of anticipation and excitement, seniors on the team reminisced over their time with the team.
"It was crazy, I could remember the way I felt during my first meet on this team," Aubrey Zuech, senior, said. "The change between the two meets was surreal. It was crazy to realize how much I've grown, not only as a swimmer but as a person." 
"This team has really helped me grow out of my comfort zone, from a swimmer to a captain," Zuech said. Zuech became a swim team captain for the State High girl's team this year alongside Sarah Ambrose and Abbey Whipple. In the past, it was tradition for there to be two captains for each team, boys and girls, but now there are three captains on each team to give more seniors the opportunity to become captains. "I think this season has a lot of last firsts, this year, in general, is that way,"  Zuech continued.
Both the boys and girls teams have continued with their success this season. With the focus on success as a whole, rather than individually.  "The team did so well, everyone is so amazing," Zuech said. "The energy of this meet was really good. The team has grown together as a family and each year I've gotten closer with the people on the team. I've really enjoyed it."
"I probably spend more time with the people on this team during the swim season than my own family," Zuech said. "It's just nice to be a part of a group of people working towards a common goal and we're all in it together."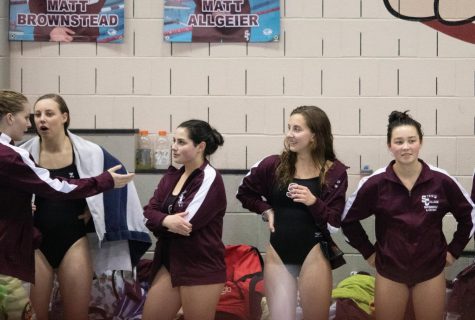 The next home swim meet will take place on Thursday, January 9th in the State High Natatorium at 5:00 pm.