Getting Into the Christmas Spirit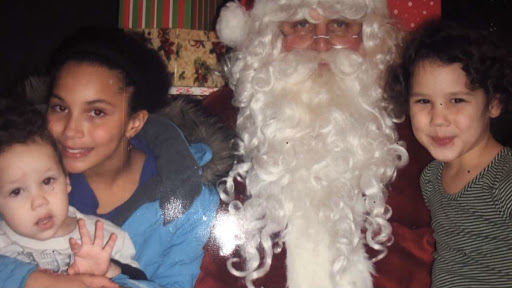 It's January, meaning that Christmas season just wrapped up. Because of the pandemic which trapped everyone inside, it was important to find some Christmas joy and lift up the spirits of others. However, Christmas this year was different from any year before, so what did people do to get into the Christmas Spirit? 
Because of COVID-19, many students had to find alternate ways to celebrate. Freshman Kayanna Myers claimed that having family over is one of the most special things during the holiday season.
"My extended family always comes to visit us every Christmas," Myers said. "I love seeing them around the holiday season, but unfortunately, because of COVID, that won't be able to happen this year."
Even though meeting up with family has become difficult this year, there are also many things people have done to celebrate the holiday at home, such as baking cookies, decorating the Christmas tree, and more. Celebrating traditions that are special to you and your family is a great, and safe way to spend the holiday season.
"I've been able to adapt this year, and found new ways to celebrate," freshman Allison Peters said. "Even though I can't meet up with my friends this year, my family and I love going to shops around town during December. They're always decorated, and it gets you in the mood for the holiday season."
Not only are traditions a great way to set the mood for Christmas, but there are also so many great family Christmas movies that can be watched during the holidays. Several State High students mentioned that some of their favorites are the Christmas Hallmark movies that come out every year.
"I always look forward to the Hallmark movies on Netflix," Myers said. "My favorite one that I've watched is definitely the "Princess Switch," I think it was made very well."
There are also plenty of comedy movies to watch around Christmas time, such as "Elf," which is a comedic movie following Buddy, who was sent to the North Pole as a toddler and raised among all of Santa's Elves. As an adult, unable to fit in, he decides to go on a journey to find and build a connection with his true parents. Another great movie to watch around Christmas time is "National Lampoon's Christmas Vacation." This movie is centered around a family who wants to have "the perfect family Christmas." However, their plans are quickly ruined when old family members show up at their door to celebrate together. 
"My family and I loved this movie so much that it became a Christmas tradition for us. We find ourselves rewatching this classical tale every year," Myers said. 
Another Christmas original that can be watched with the whole family is the classic and hilarious "Home Alone" series.
"Home Alone is one of my favorite movies to watch during the holiday season," Peters said. "I'd give it a solid 8/10 because it's such a nostalgic and heartwarming movie for me, especially the first one."
All of these movies have their own exciting plots that will keep you on the edge of your seat and are a great way to get into the Christmas mood.
Another way to lift up the spirits of you and your family is to listen to holiday music. Some of the best songs of the year come out around Christmas time. Whether you're into old and original songs like "Carol of the Bells" and "Mary, Did You Know," or would rather prefer the much newer hits by modern songwriters, such as Ariana Grande's "Santa Tell Me," there is something for everyone. 
"I absolutely love the music that comes out around Christmas. Especially some of the new ones by the band Pentatonix, their music is incredible," said Peters.
No matter what type of music you'd rather listen to, holiday songs never fail to help get into the Christmas spirit.
One last way everyone got into the Christmas spirit this year was to eat traditional Christmas foods like frosted cookies, hot chocolate, custard, gingerbread cookies, and more.
"We always find ourselves baking holiday cookies and sweets like macarons around December," Peters said. "My family also always goes crazy with sausage bread and churros around this time of year, and it's just become a tradition for us."
Singing songs, eating foods, and watching Christmas movies were some great ways people got into the Christmas spirit this year. No matter how you decided to celebrate this past Christmas, keeping up the spirits of yourself and the ones around you, even during a pandemic, is one of the most important parts of any celebration.